SUMMETRIA
THE GUILLOCHÉ TO EMBODY THE PERFECTION OF SYMMETRY IN LIVING THINGS
To try to reproduce as faithfully as possible the perfection and beauty of the symmetries found in Nature, we have opted to use one of the oldest decorative techniques in watchmaking: the guilloché. 
The SUMMETRIA collection features fine guilloché with motifs and contrasts inspired by the perfect symmetry of the sunflower heart.
Limited edition of 50 pieces.
SUMMETRIA - BLACK
Prices are displayed with VAT for EU countries. For other countries the sales price will be deducted from European taxes once the destination is entered.
---
Graphic and colorful, the SUMMETRIA collection - meaning "The Right Measure"  in Greek is inspired by the perfect symmetry of life. Halfway between innovation and tradition, between arts and sciences, SUMMETRIA is a tribute to the beauty of the world and nature, expressed through the centuries-old watchmaking technique of guilloché.
LIMITED EDITION OF 50 COPIES.
Shipping costs calculated at checkout.
Deliveries December 15, 2023.
Local taxes may apply in countries outside the EU, and are the responsibility of the customer.
Caliber :
Automatic MIYOTA 9039 modified
Strap :
Hand-made leather - ethically sourced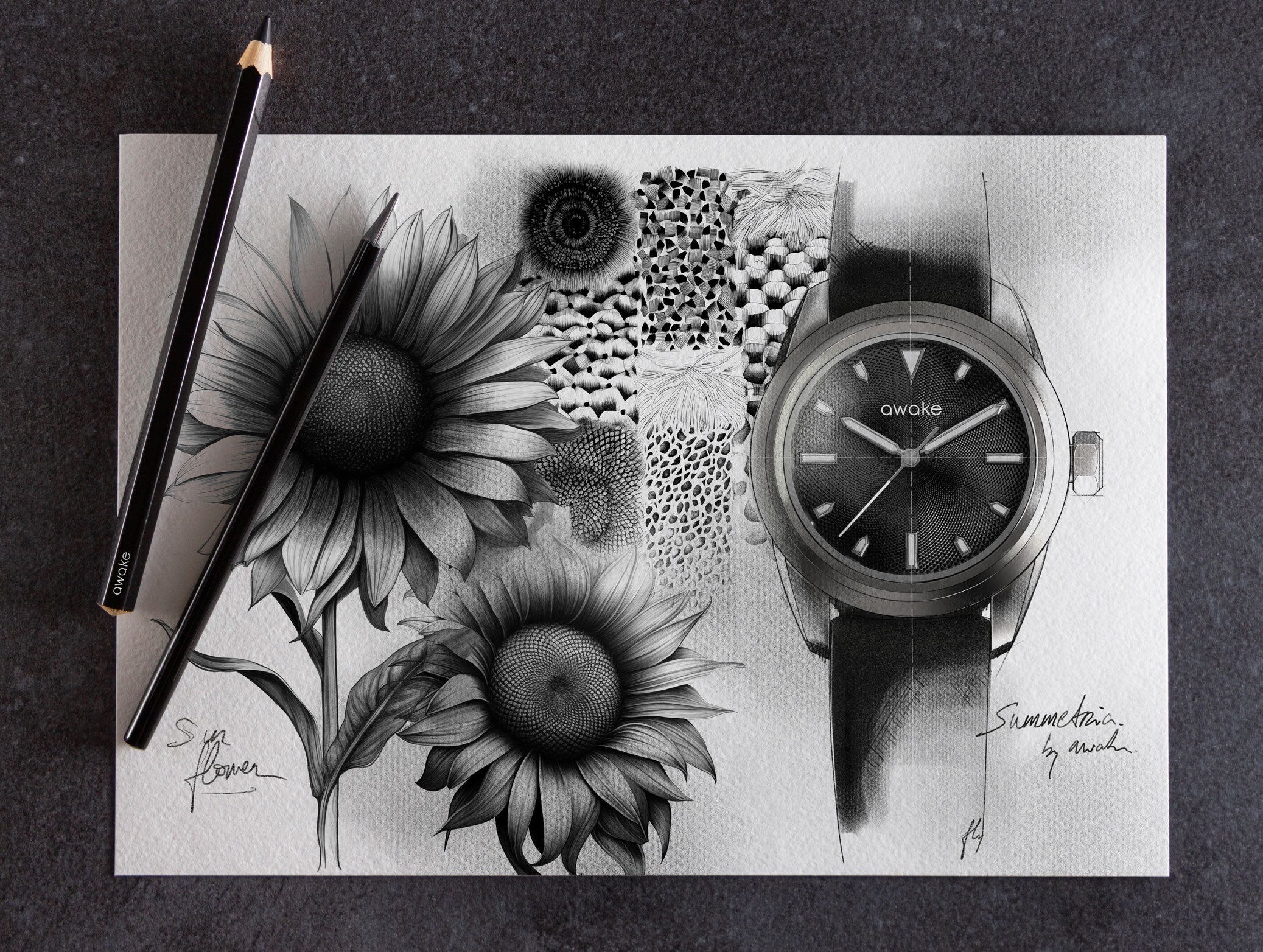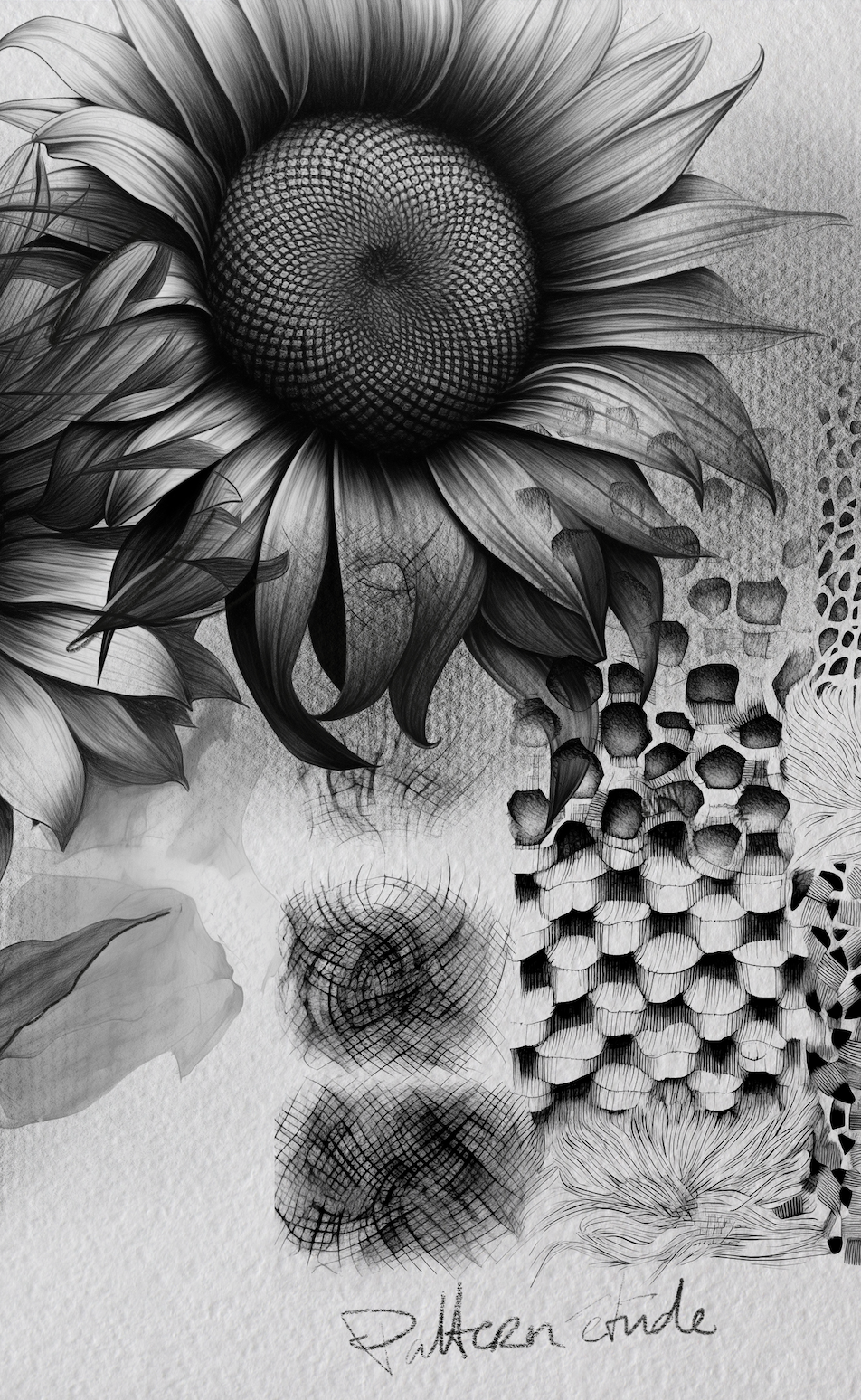 A COLLECTION INSPIRED BY THE CAPTIVATING SYMMETRY OF NATURE.
All the projects developed by Awake since its creation have a common goal: to raise awareness by reminding us of the beauty of the World. They have all been designed to reconnect us with the Nature that surrounds us, to perceive and feel it's bewitching beauty and perfect harmony, but also to appreciate its fragility and understand our responsibility to preserve it.
SUMMETRIA draws its inspiration from the careful observation of living things and their balanced, harmonious and perfectly symmetrical forms. The symmetry of life is a spectacle to be admired every day. From the wings of a butterfly to the petals of a flower, symmetry is everywhere. They seem quite natural to us and we don't necessarily pay much attention to them, yet symmetries dominate the living world.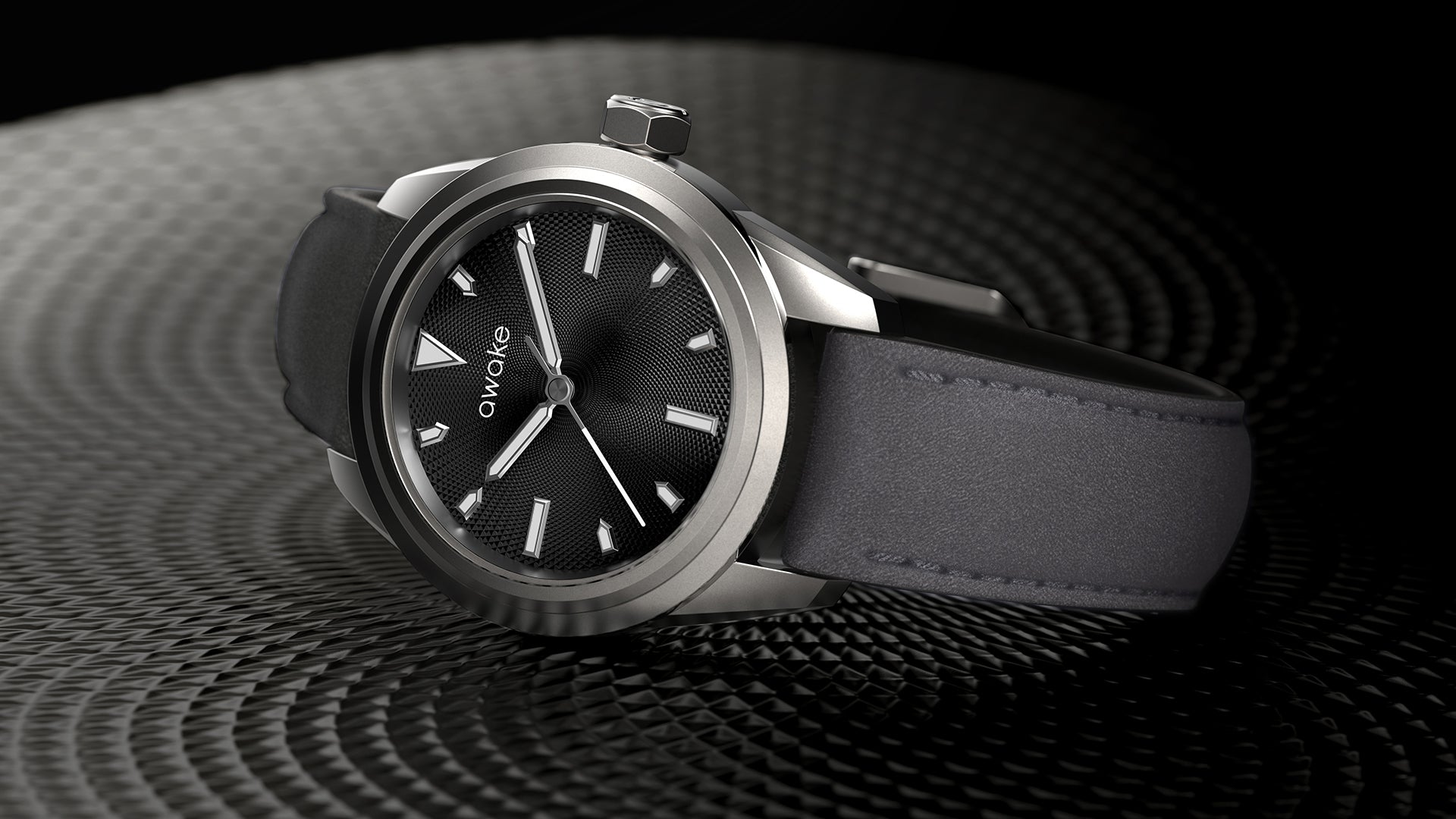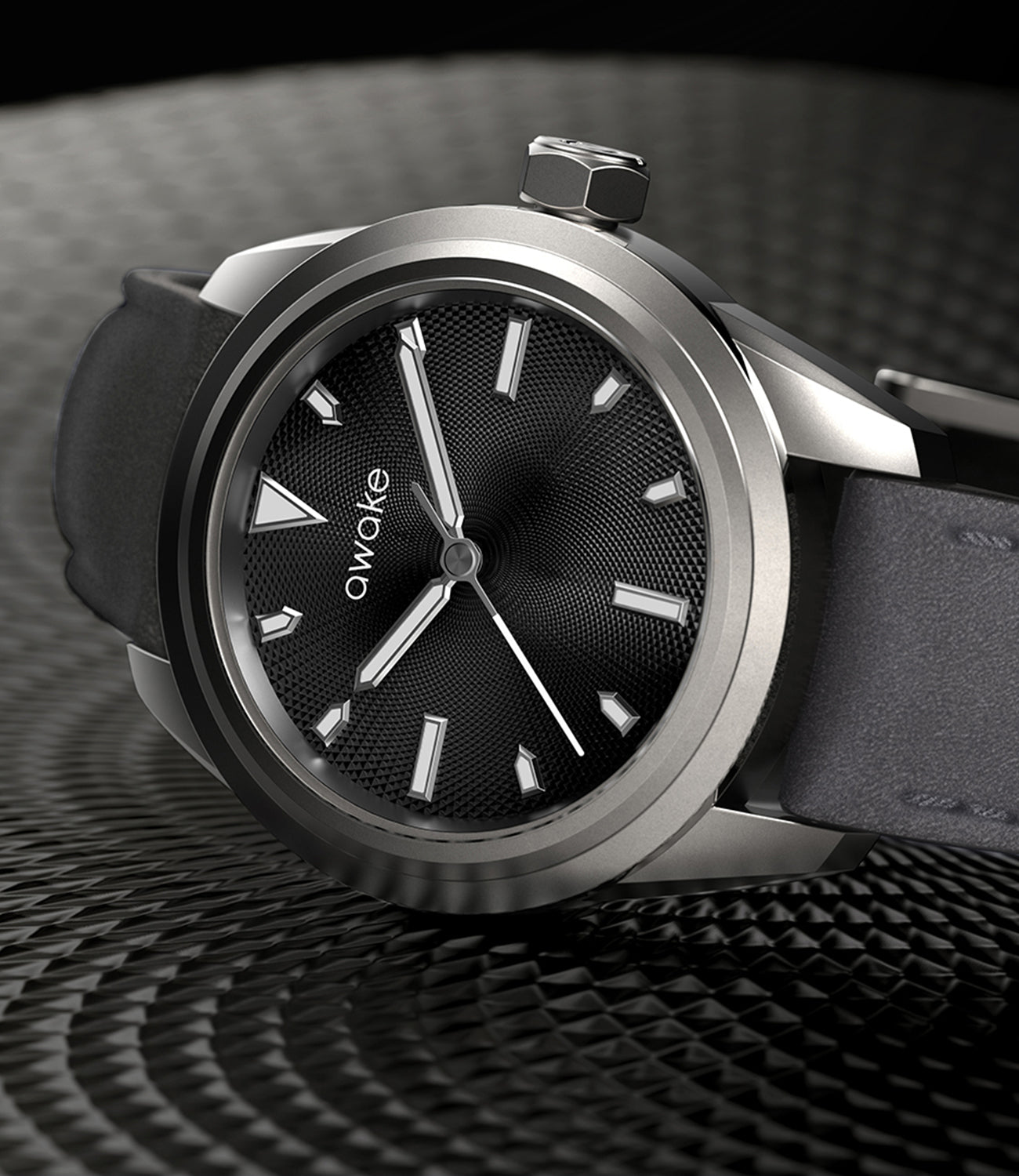 BLACK GUILLOCHÉ DIAL
A highly legible black dial with deep, elegant and discreet shades, evoking the raw material in an almost architectural approach to contrasts with the light grey of the case. A graphic, urban and elegant version with a discreet and effective charm, to be worn in all circumstances. The inner bezel is subtly engraved with the indication 1 of 50.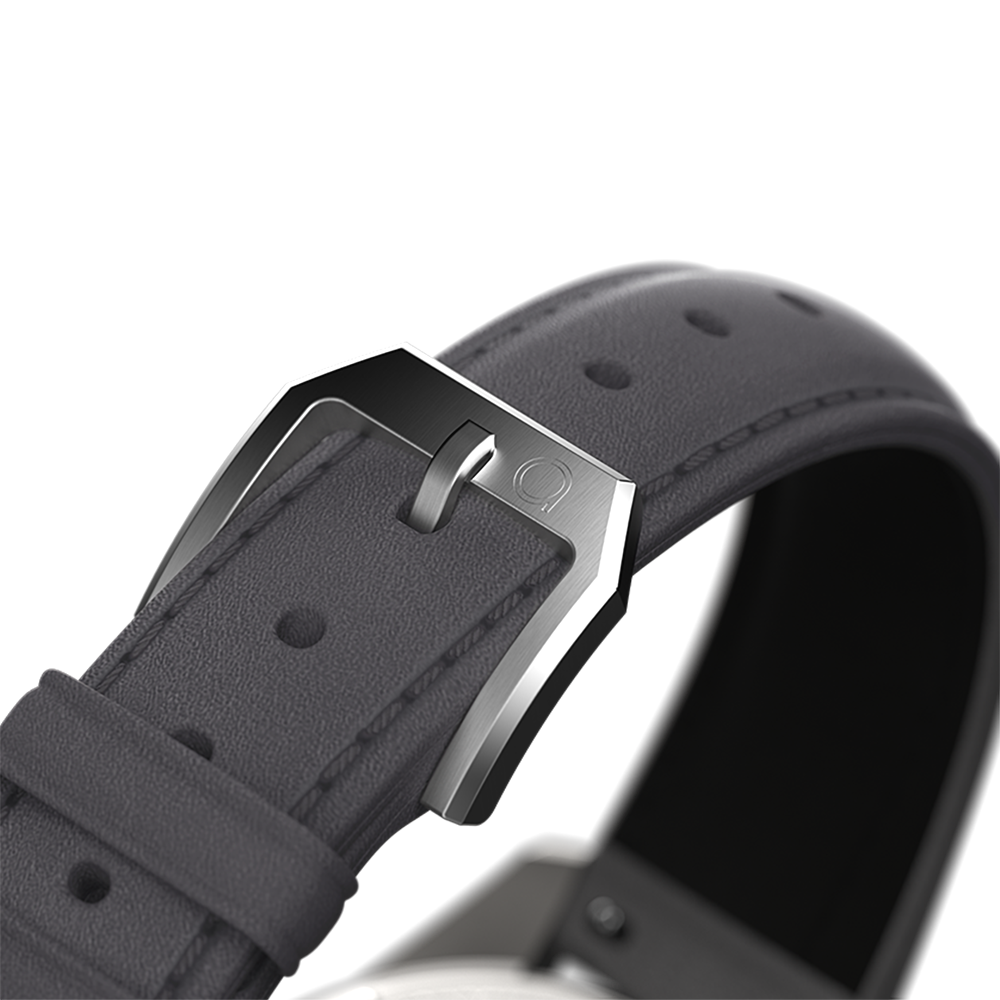 HANDCRAFTED LEATHER STRAP
The 4 versions of SUMMETRIA are fitted with a grey leather strap, tone-on-tone topstitched, mounted on a pin buckle, and handmade in Vietnam in an artisan workshop that pays great attention to quality and detail. The raw material used for your bracelet is certified as ethically and responsibly sourced.
RECYCLED TITANIUM CASE
Used in the aeronautics and aerospace industries, our 70% recycled titanium offers performance strictly equivalent to that of virgin material, while significantly reducing its carbon impact. SUMMETRIA's case is perfectly suited to all your life constraints. A genuine everyday tool watch, built to last.
MODIFIED AUTOMATIC CALIBER
Reliable and easy to maintain, the Japanese-made Miyota calibre has a 42-hour power reserve and beats at a rate of 28,800 vibrations per hour. The oscillating weight has been completely reworked, with particularly meticulous finishing - polished chamfers, micro-blasted and brushed alternations, deep markings - giving the whole a highly technical aesthetic.