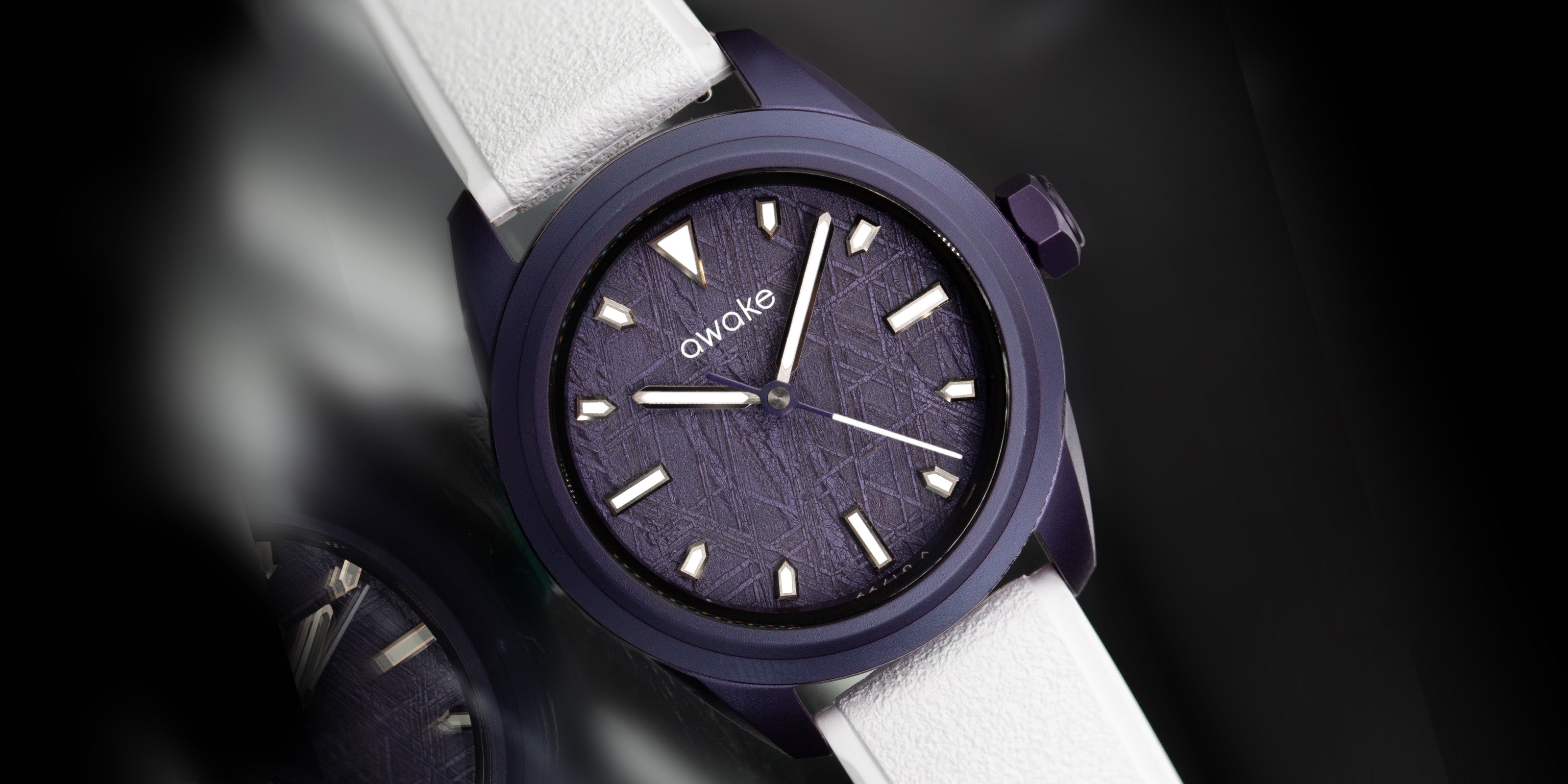 TIME TRAVELERS - ÉDITION limitée LASSAUSSOIS  
Published in 99 copies, this special series celebrates the collaboration between AWAKE and the famous Parisian house LASSAUSSOIS Les Montres - Les Bijoux.
This exclusive co-creation offers a purple meteorite dial echoing the case of the same color. Each copy is numbered and delivered in a collector's box containing two bracelets, one white and the other black.
TIME TRAVELERS - ÉDITION LASSAUSSOIS
SKU:
Prices are displayed with VAT for EU countries. For other countries; the sale price will be deducted from European taxes once the destination has been entered.
---
Avec cette édition spéciale, nous remontons le temps jusqu'aux origines de la formation des planètes. Un voyage aux confins de la galaxie pour comprendre les météorites, ces débris d'astéroïdes ayant voyagé à travers l'espace et le temps. Témoins de la naissance de la vie, sources d'un précieux savoir scientifique, elles nous interpellent sur notre rapport au temps et à la Terre. 
La série TIME TRAVELERS - ÉDITION LIMITÉE LASSAUSSOIS est disponible en pré-commande ici même et dans les boutiques LASSAUSSOIS, dans la limite des 99 exemplaires disponibles. Livraison prévue en septembre 2023.
LASSAUSSOIS : 40 rue de Passy, 75016 Paris - 01 53 92 51 61
LASSAUSSOIS : 58 rue de Rennes, 75006 Paris - 01 46 34 71 38
Caliber
Automatic MIYOTA 9039 modified
Bracelets :
Biopoly blanc et biopoly noir
Glass :
Anti-reflective sapphire crystal with ID glass technology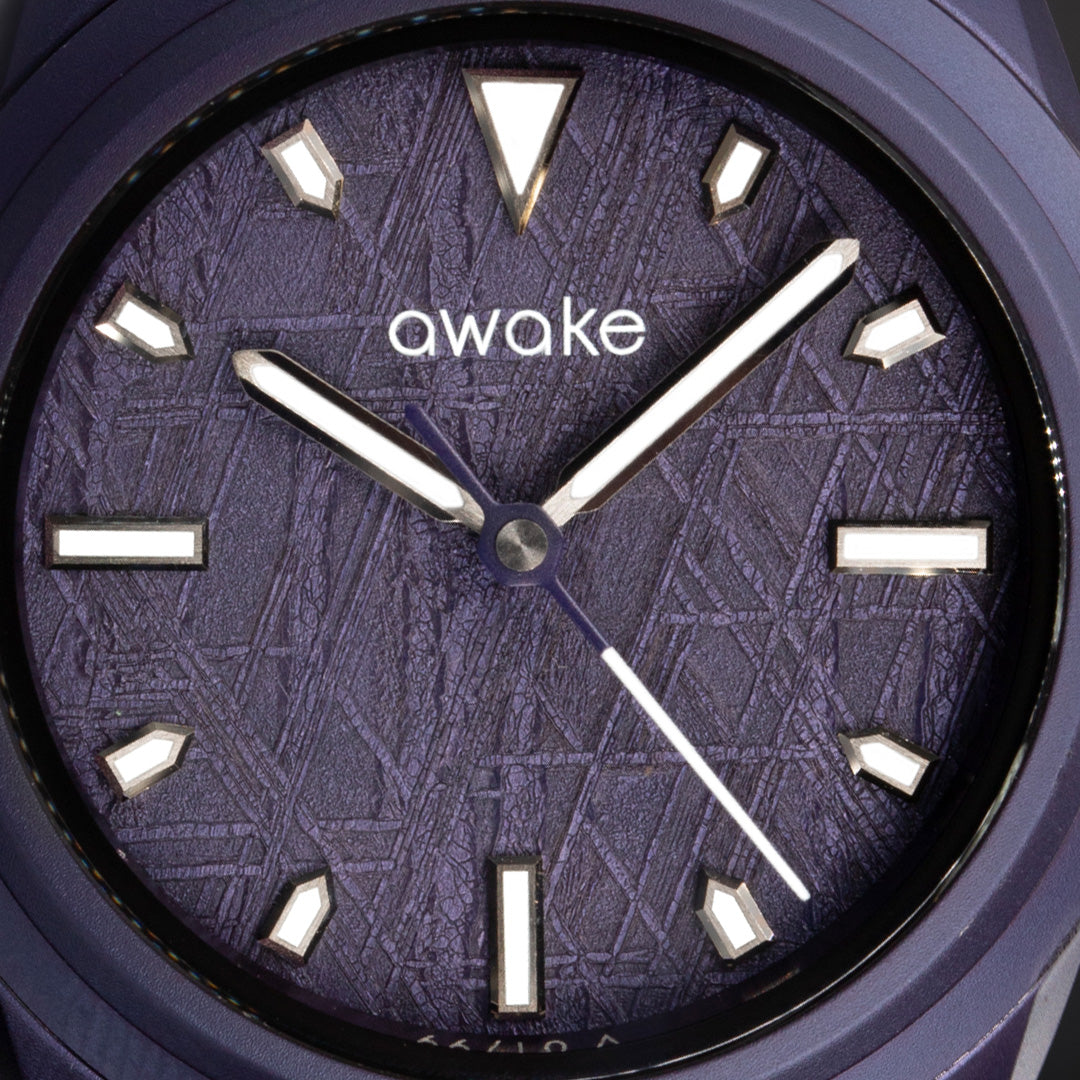 Purple METEORITE DIAL
A dial carved from an exceptional meteorite prized by collectors: Munionalusta. A fragment of eternity on the wrist, here in a purple shade exclusive to the LASSAUSSOIS limited edition, to put into perspective the notion of time and our place in the universe.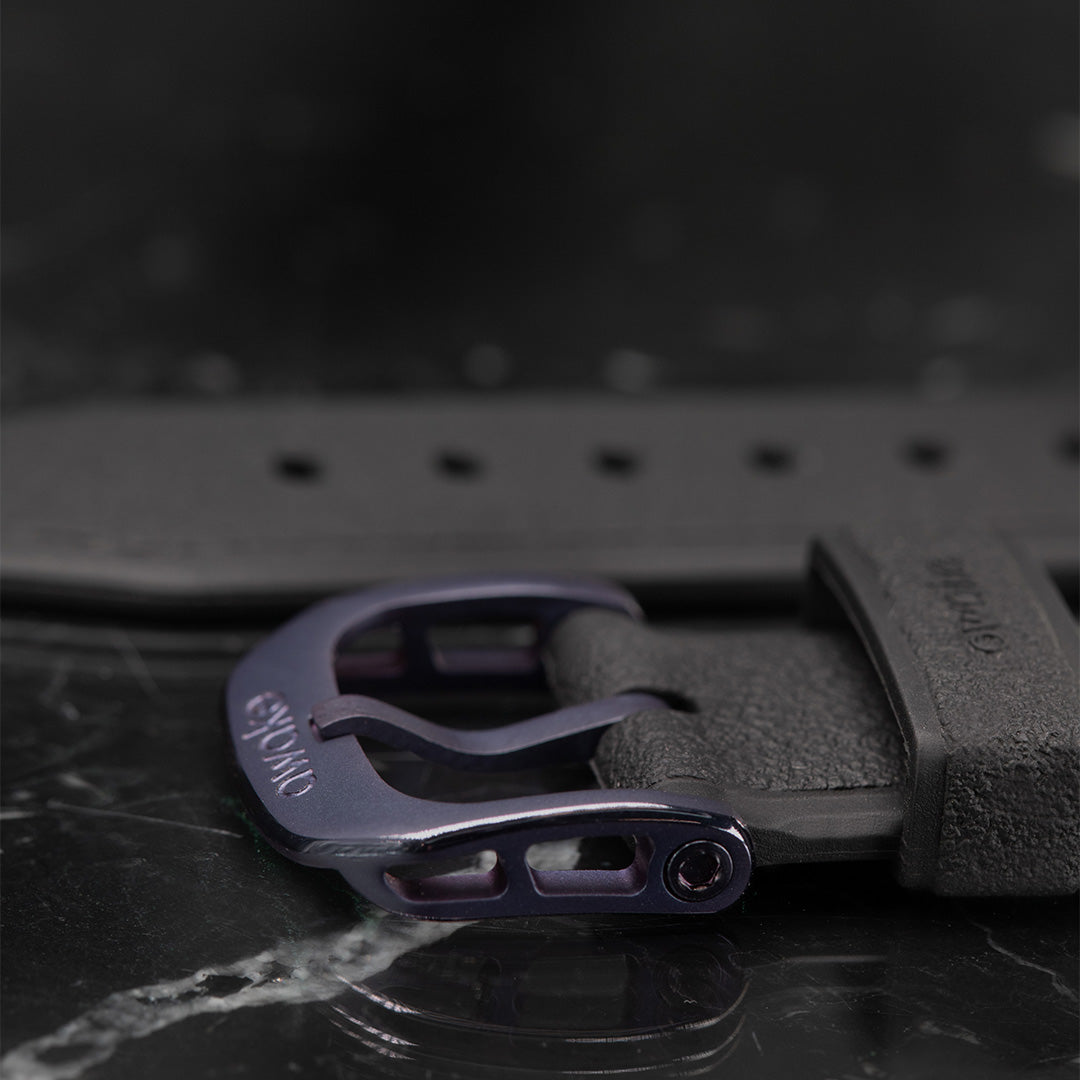 BRACELETs CONFORTABLEs ET ÉLÉGANTs
Légers, confortables et résistants, les deux bracelets - blanc exclusif et noir - qui équipent l'édition limitée LASSAUSSOIS incarnent notre vision d'une fabrication à l'impact environnement minimal. Sur leurs faces intérieures sont reproduites les figures de Widmanstätten, motifs typiques des météorites ferreuses.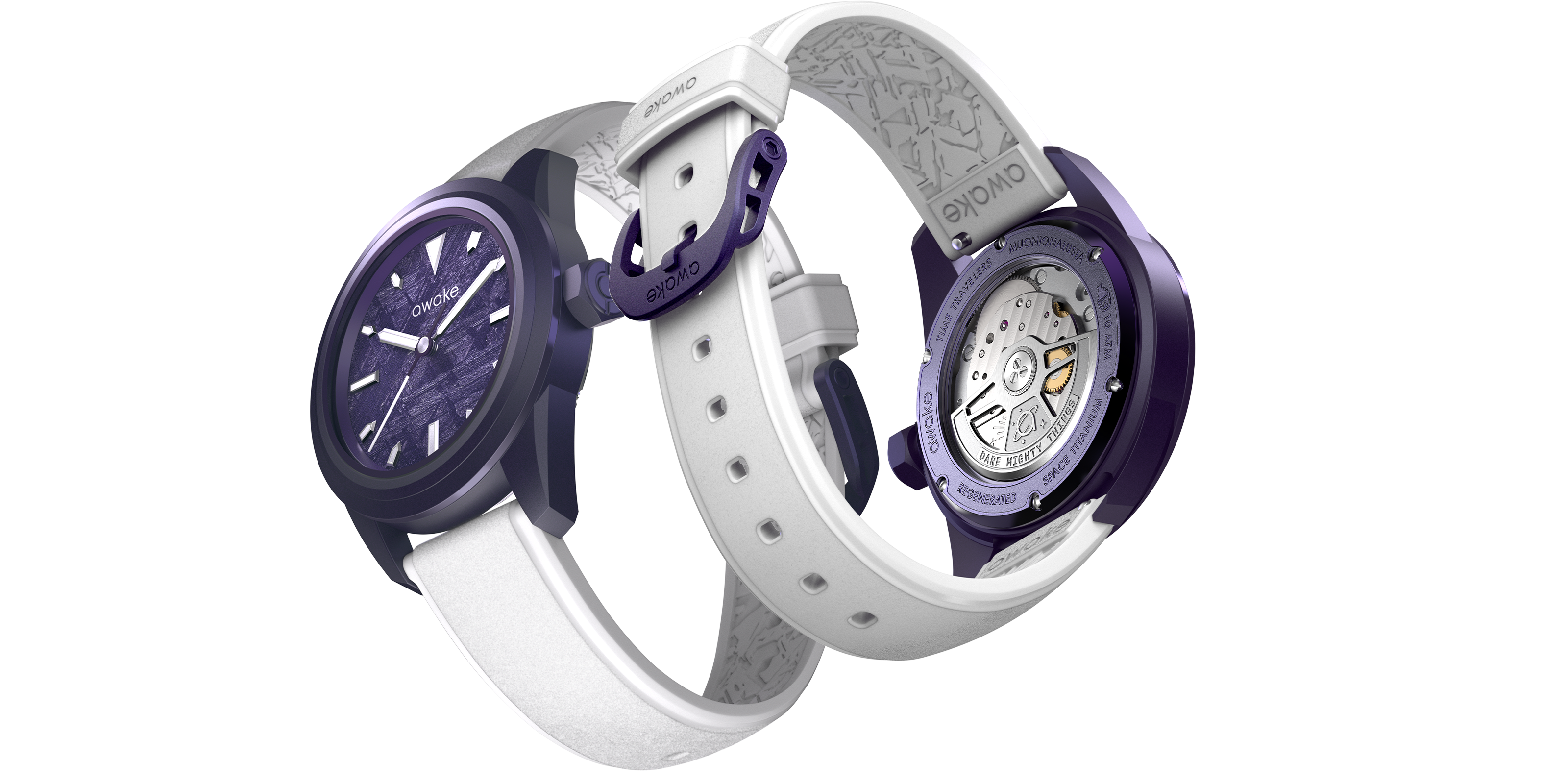 JOUR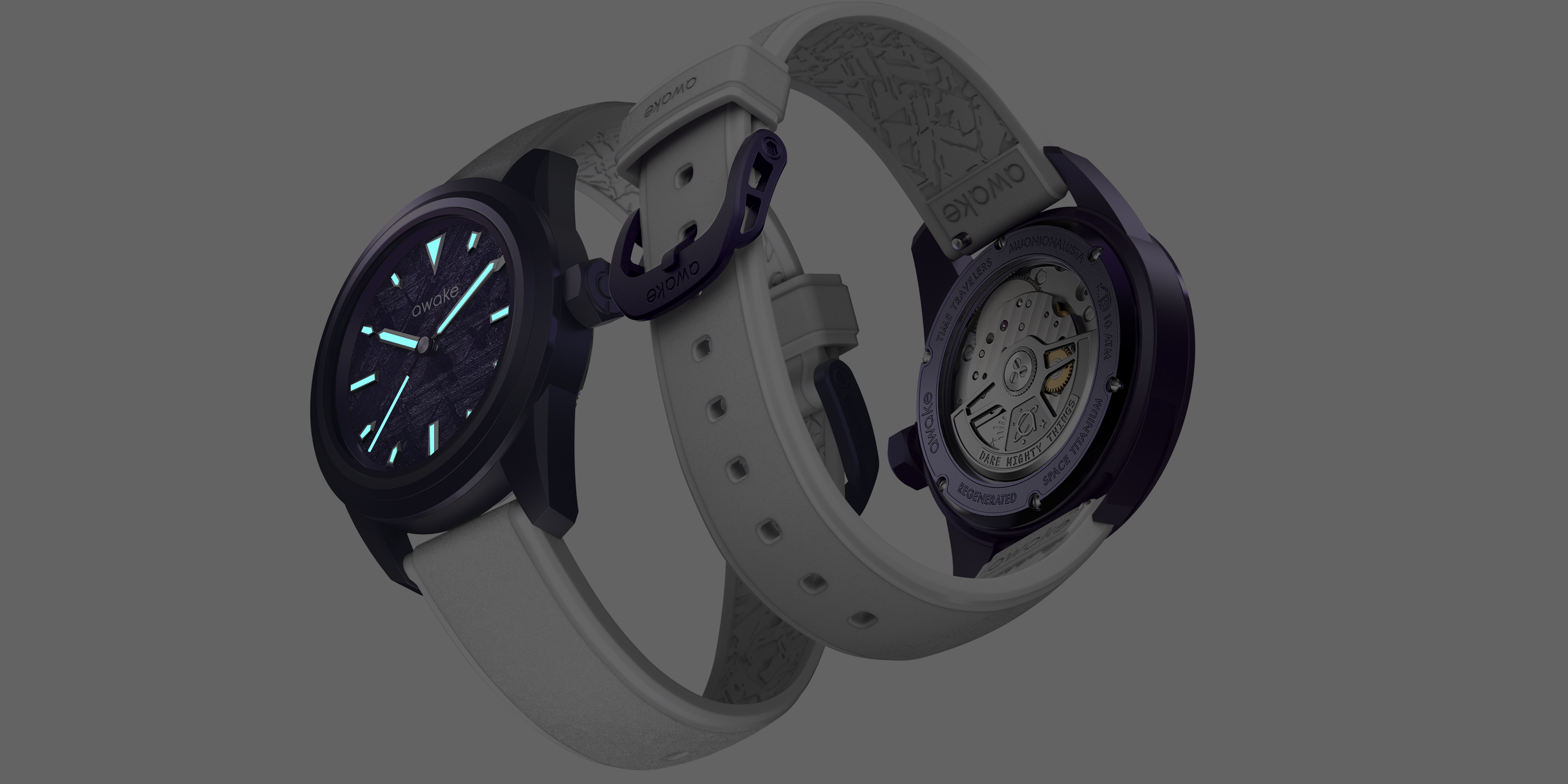 NUIT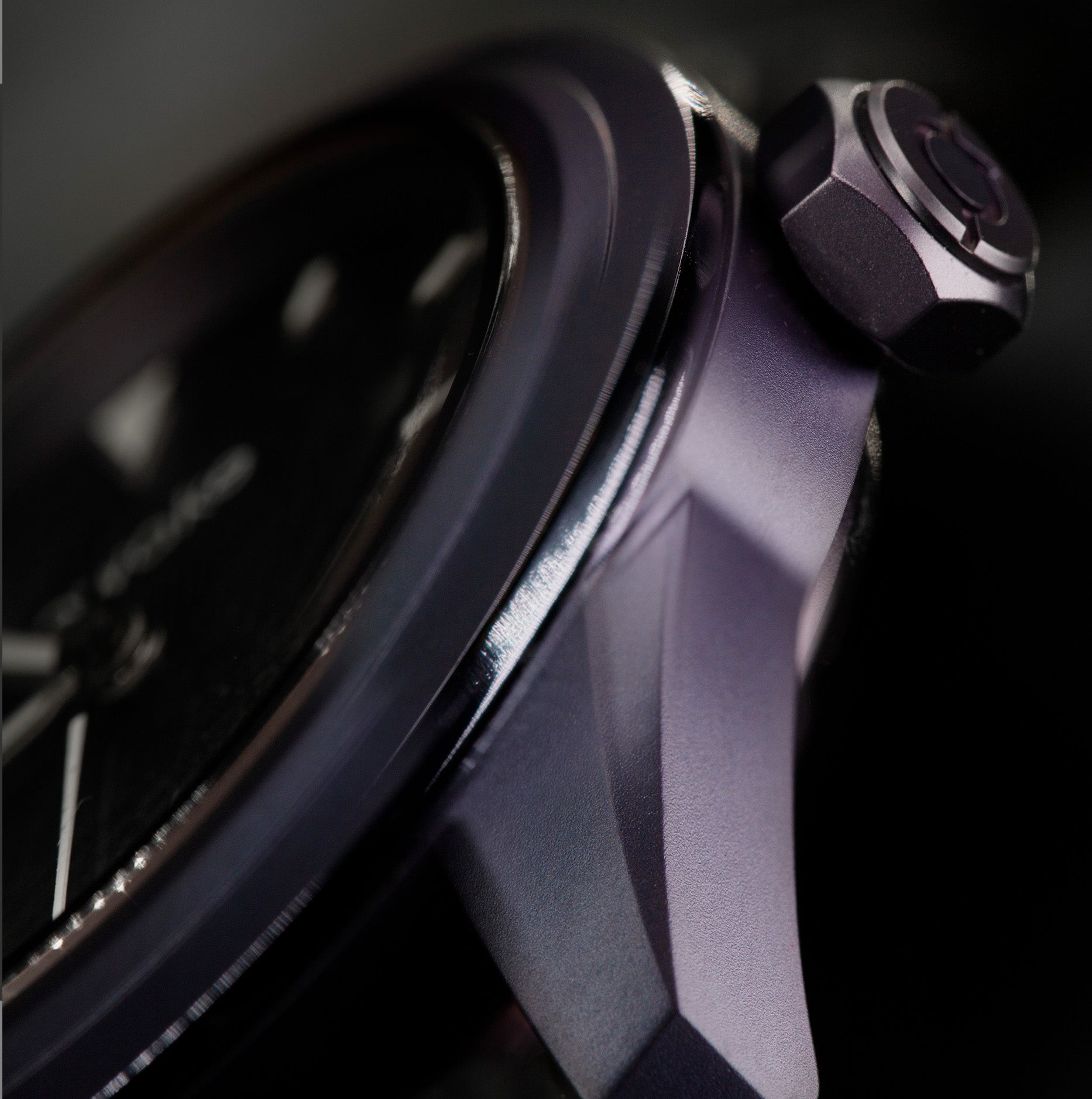 TITANIUM CASE
Used in aeronautics and aerospace, our 70% recycled titanium offers performance strictly equivalent to that of a virgin material, while significantly reducing its carbon impact. Light, robust and waterproof, the Time Travelers case is perfectly suited to all your life constraints. A real everyday "tool watch", built to last.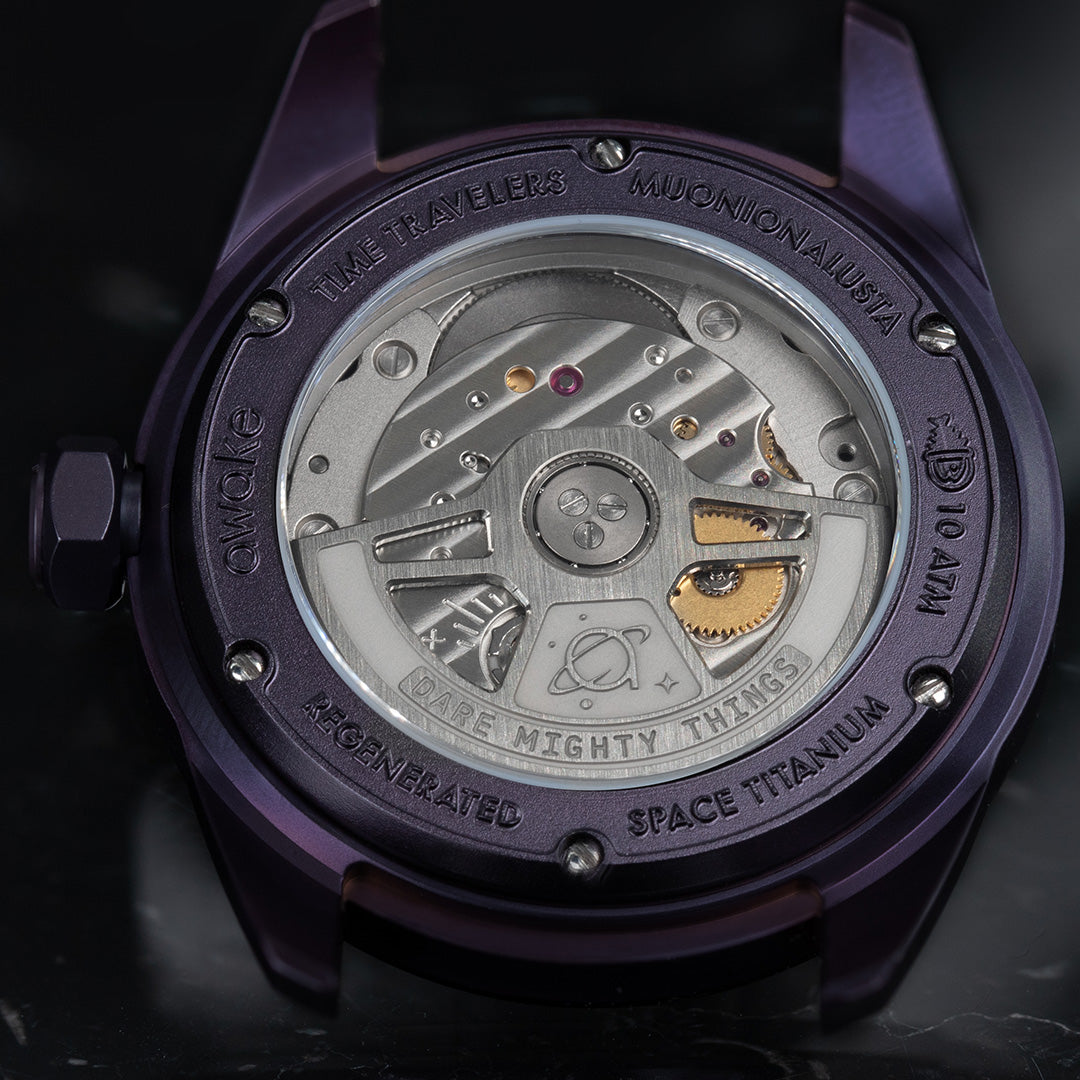 MODIFIED AUTOMATIC CALIBER
Reliable and easy to maintain, the Miyota movement made in Japan has a 42-hour power reserve and beats at the rate of 28,800 vibrations per hour. Totally reworked, the oscillating weight offers particularly neat finishes - polished chamfering, microblasted-brushed alternations, deep markings - giving the whole a very technical aesthetic.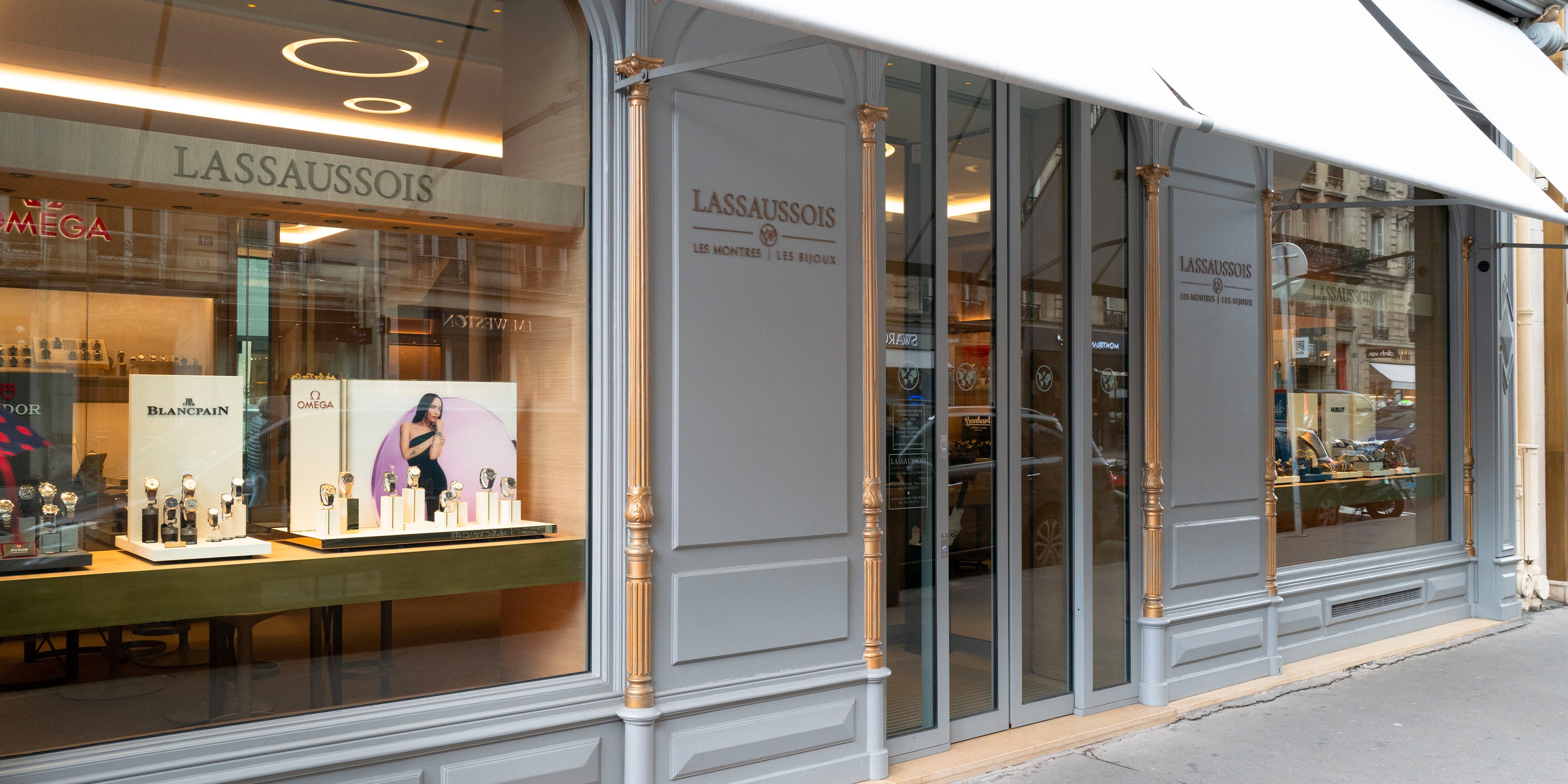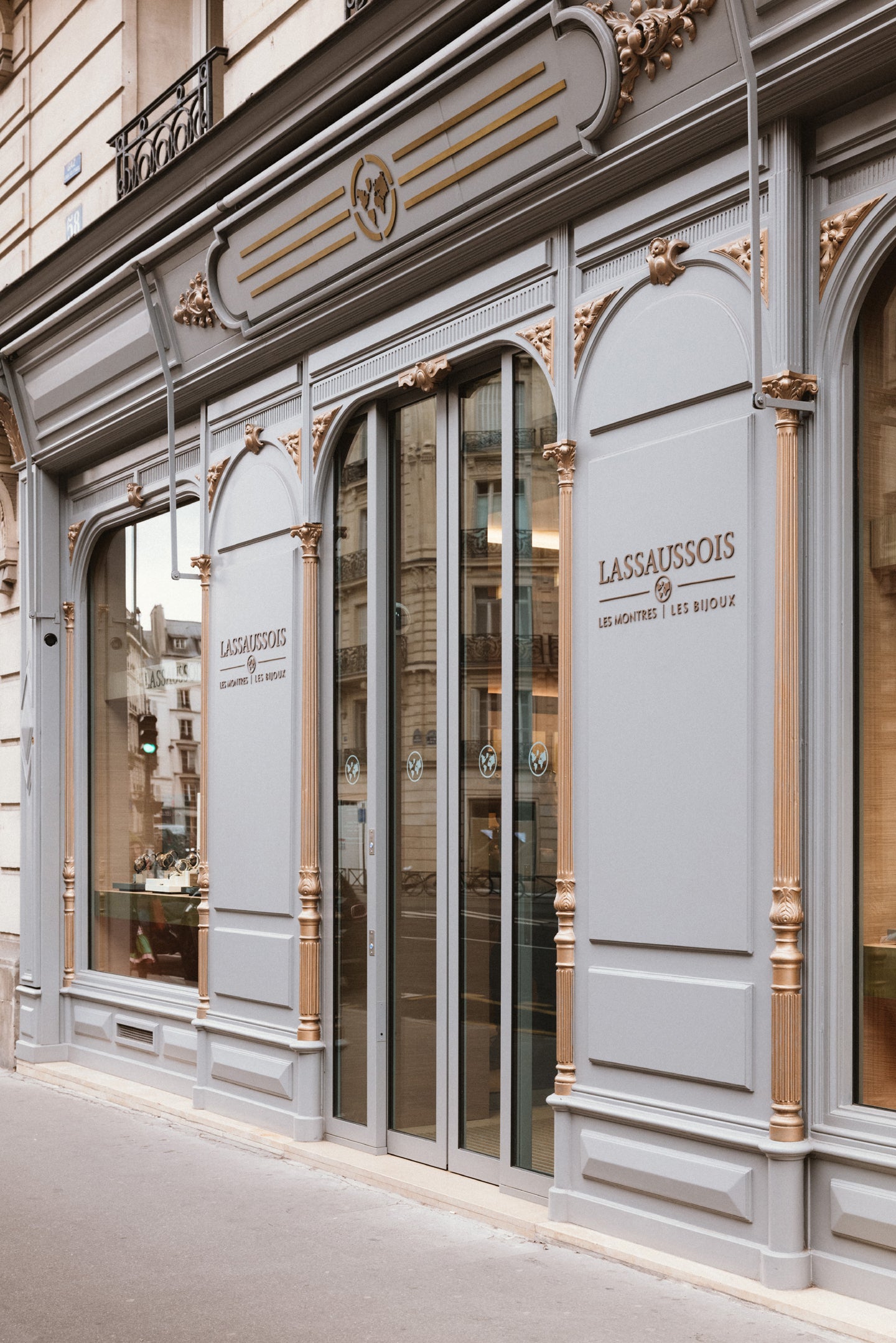 LASSAUSSOIS LES MONTRES UNE SAGA FAMILIALE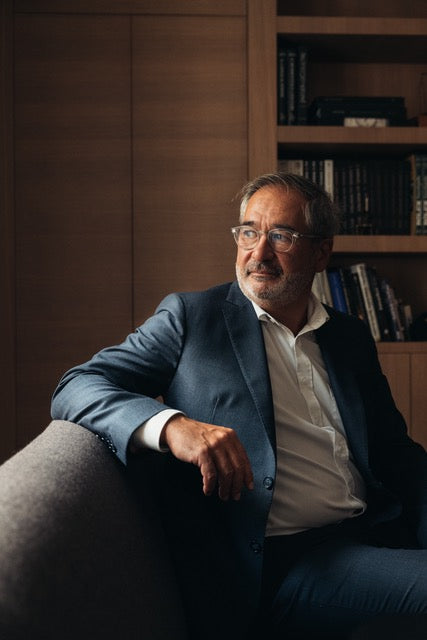 C'est en 1990 que Jean Lassaussois ouvre sa première boutique, Les Montres Suisses, au 58 rue Bonaparte. Rejoint par son frère Arnaud en 1992, ils ouvrent en 1997, une nouvelle boutique, située 40 rue de Passy. Depuis 2007, Catherine Lassaussois est quant à elle à la tête du premier magasin exclusif Rolex ouvert en Europe, rue de Rennes, à Paris.
En 2015, le groupe a encore approfondi cette relation de confiance qui le lie à ses clients, avec l'ouverture de la boutique Les Montres Collector, dédiée à l'horlogerie vintage, aux montres de collection, aux pièces de seconde main, et dirigée par Pauline Lassaussois, l'une des filles de Catherine et Jean. Pour les 31 ans de la maison, la famille Lassaussois a décidé d'ouvrir un nouvel écrin au 58 rue de Rennes Paris 6ème, dédié à l'horlogerie et à la joaillerie.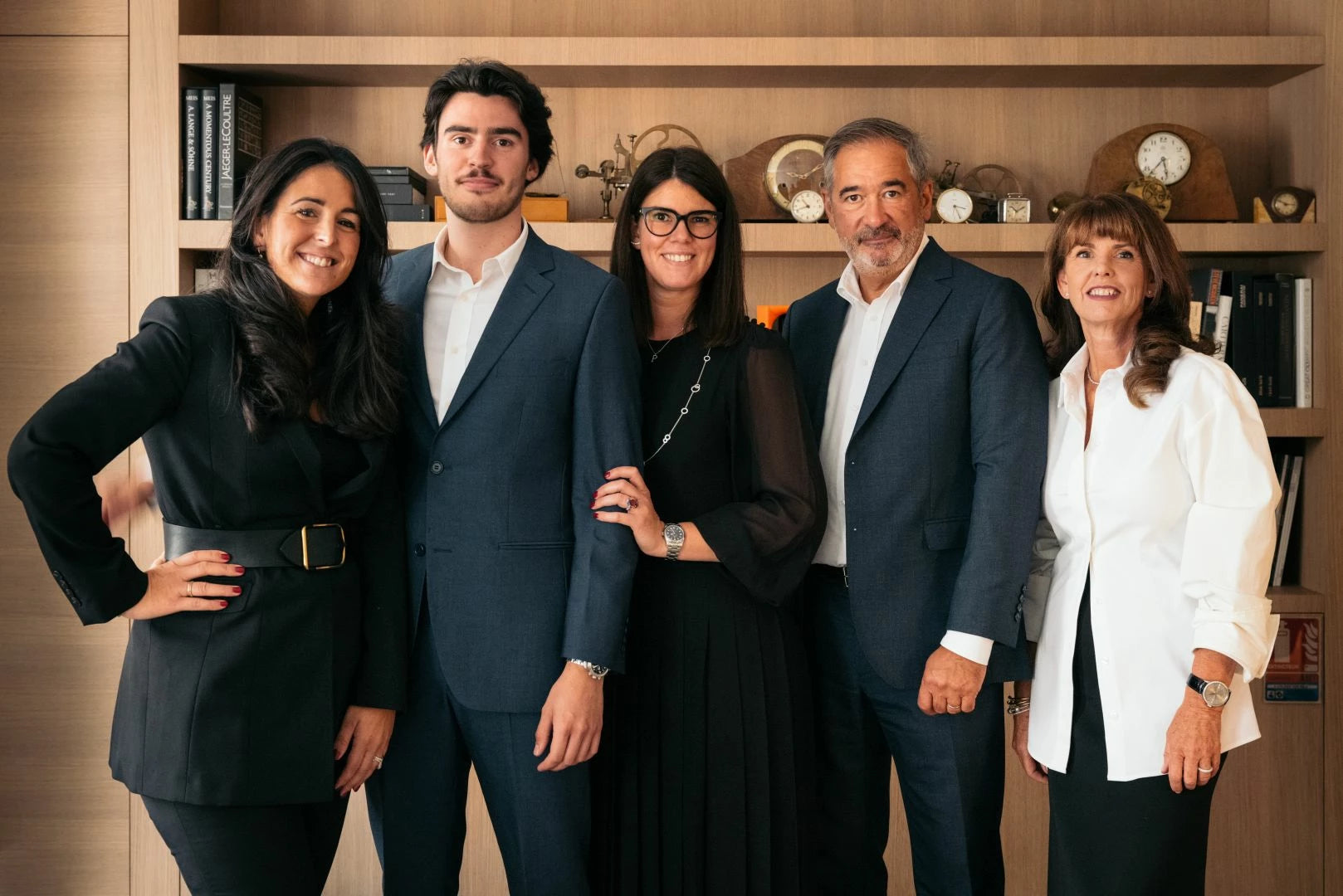 La saga Lassaussois est avant tout une histoire de famille, et c'est tout naturellement que Valentin Lassaussois, fils de Jean et Catherine, horloger de formation, rejoint le groupe afin d'entretenir les garde-temps des plus belles maisons horlogères. Amélie Lassaussois reprend quant à elle, en juillet 2022 à la suite d'Arnaud, la direction de la boutique du 16ème arrondissement, adresse mythique de la capitale, connue et appréciée de tous les amateurs d'horlogerie et de joaillerie.
A Paris, l'Histoire Lassaussois s'écrit et se transmet depuis un quart de siècle, érigée sur des valeurs familiales et de passions partagées, transmises à une clientèle exigeante, passionnée et curieuse au sein des boutiques Lassaussois - Les Montres - Les Bijoux, incarnant et promouvant le savoir-faire horloger et joaillier familial, ainsi que les créations des plus grandes marques. 
TIME TRAVELERS EXPERIENCE
"EYES ON ASTEROIDS"
TIME TRAVELERS-Édition LASSAUSSOIS est équipée d'un verre saphir avec technologie NFC intégrée, permettant l'accès à une expérience de découverte des météorites de notre système solaire. 
Chaque propriétaire d'un exemplaire de cette édition limitée et numérotée à 99 exemplaires pourra prendre part à une expérience immersive unique développée par la NASA et explorer en temps réel notre voie lactée, à la découverte des astéroïdes qui la traversent. La technologie NFC est ici utilisée comme un outil d'éveil des consciences à la beauté et aux mystères du monde qui nous entoure. 
A votre tour de découvrir ces fragments d'éternité, de les localiser, d'en apprendre plus sur leurs noms, leurs tailles, leurs compositions mais aussi leurs trajectoires passées et futures.